Get to Know More About Bordeaux
---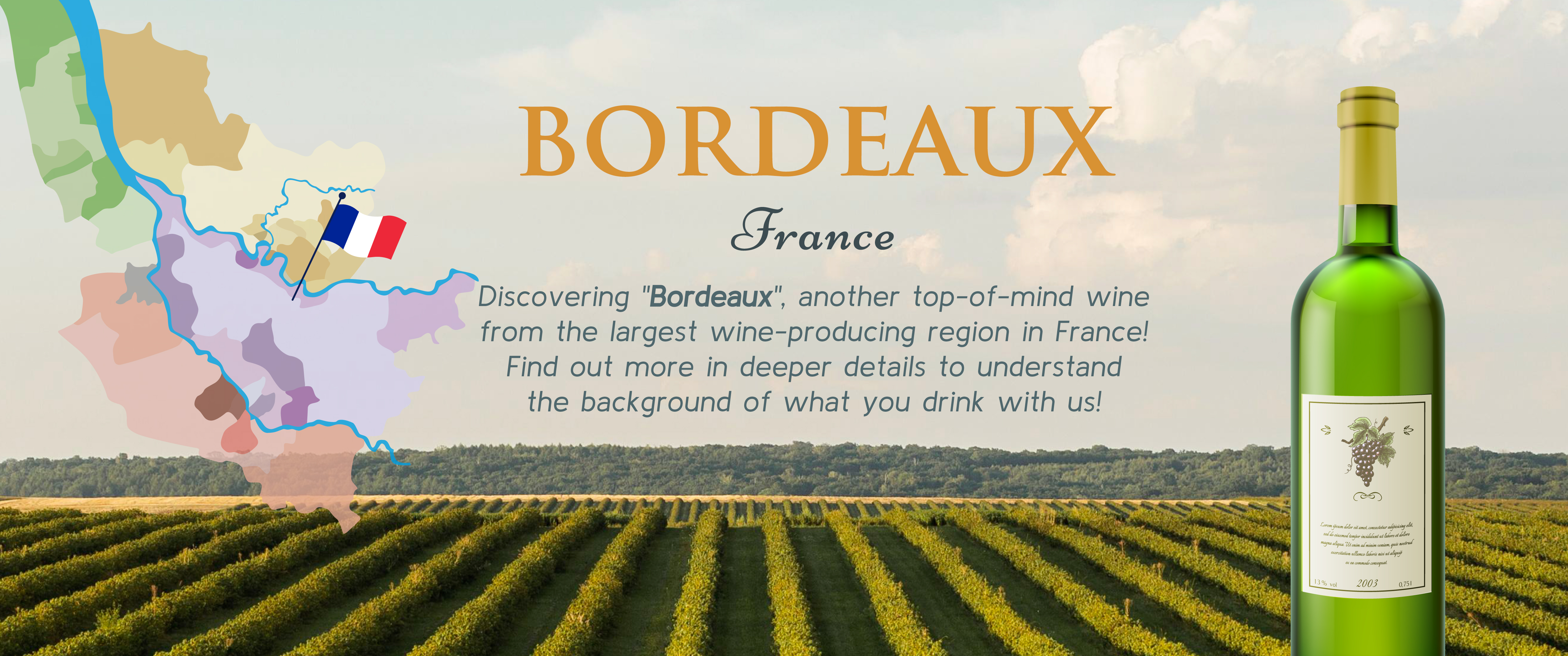 ---
Get to Know More About "Bordeaux"
"Bordeaux" is the biggest wine-growing region in France consisting of approximately 108,000 hectares of vineyards, almost 6,000 wineries, and 57 appellations with a history of more than 2,000 years since Roman times!
"Bordeaux" is one of France's most famous regions, located on the west coast of central France. Bordeaux is also known as one of the major port cities in southwestern France close to the Bay of Biscay and crossed by the Garonne River, which cuts through the center of Bordeaux creating 2 important wine-making regions, the "Left Bank" and the "Right Bank"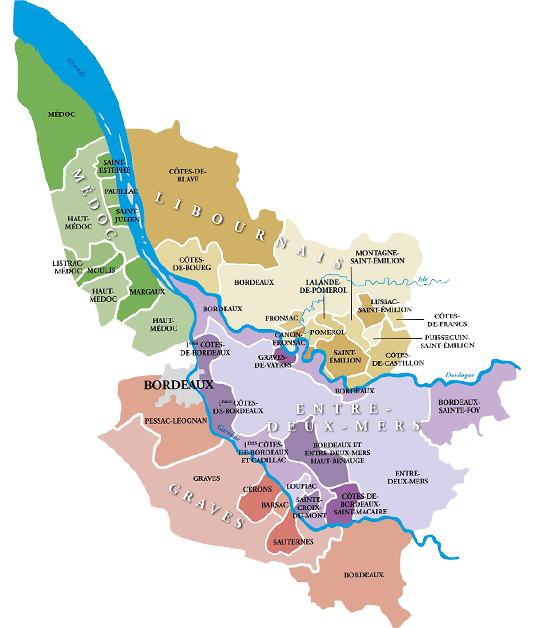 What is the difference between Left and Right Bank?
As mentioned above, these 2 sides were separated by the Gironde estuary and then split into the Garonne River (Left side), the Dordogne River (Right side), and Entre-Deux-Mers right in the middle (like an upside-down Y). Each side has significant differences, such as terroir and even a grape variety!
"The Left Bank" has a cool climate and a terroir comprising gentle slopes characterized by gravelly soil and limestone underneath. Left Bank normally produces a blend made with Cabernet Sauvignon as a main, along with Merlot, Petit Verdot, Malbec, and Cabernet Franc. The wines tend to be more structured, powerful and have a high acidity. The Left Bank is home to the 1855 Classified Bordeaux wine (aka. Medoc Classification) Its goal was to establish the most prestigious Chateau in the region per requested from Napoleon lll, to be presented at the Exposition Universelle de Paris for showing people around the world the best French Bordeaux wines, which was the origin of "The First Growth"
Examples of the Left Bank wine are Bernard Magrez, Chateau Rauzan, Château Doisy Daëne, and Château St Christophe


"The Right Bank" has a flat terrain, little rainfall, and high summer temperatures. This region is rich in limestone and clay soils, which, when combined with the varied climate, make it ideal for growing a variety of vines whose roots must dig deep to find nutrients such as Merlot, which is the main grape variety planted on the right bank, followed by Cabernet Franc, Petit Verdot, and Malbec. The wines tend to be soft, silky, juicy, more approachable at a younger age, and Furthermore, higher temperatures produce more intense aromas and flavors of dark berries.
Examples of the Right Bank wine; Château LaFleur, Château Poupille, Château Laulan, Château Falfas, Château Lyonnat, Le puy, Clos puy Arnaud, and Château Reynon